Roller Skates Halloween Costumes Ideas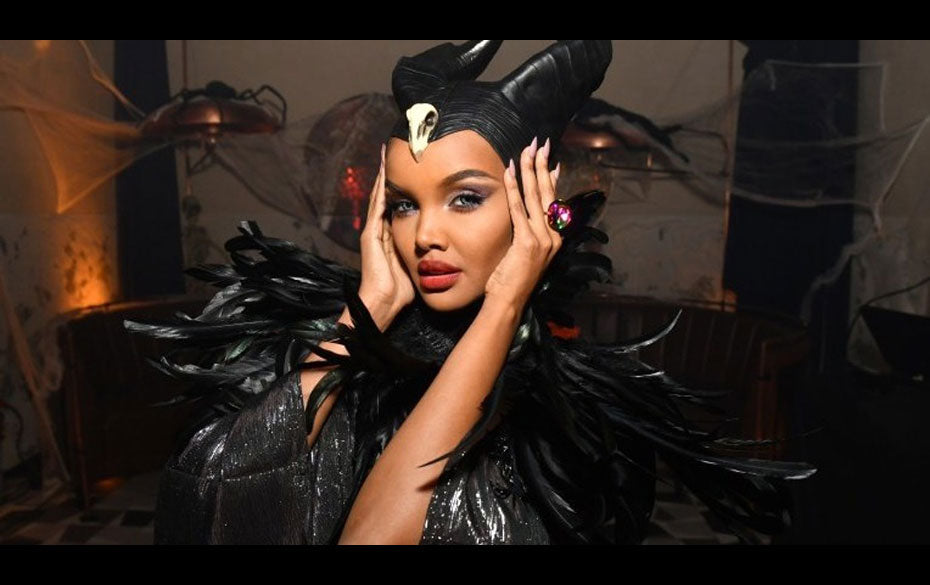 Gear up, guys!
Get ready for the excitement and fun at Halloween this year!
Have you finalized your Halloween costumes yet?
If not, then here are some unique ideas for you.
We guarantee you will definitely stand out of the crowd.
Pairing your Halloween costumes with roller skates gives an oomph to your costumes. Roller skates not only add values to your costume, they also add to your whole persona with the speed, flow, and agility. Not to mention, you can grab the best treats earlier than the walkers can. Choose your favorites, aha!!!
Roller Skates Halloween Costumes Ideas
Simply swapping your shoes with roller skates ups your Halloween game. However, some Halloween costumes go extra well with the roller skates.
1. Wild Look
For a wild jungle look, pair up your dark animal print tights with rollerblades. CubiDupi is a great place to shop for dark-colored animal print tights. For example, their tiger, leopard, and zebra print tights are perfect for your wid Halloween costumes.
Jungle and wild themes are extremely popular because of the easy availability and variety. You can even DIY several costumes.
Make a headgear with feathers and pin-up leaves on your dress to give it a Tarzan look. You can also add a leopard, tiger, or any other animal print element for this look.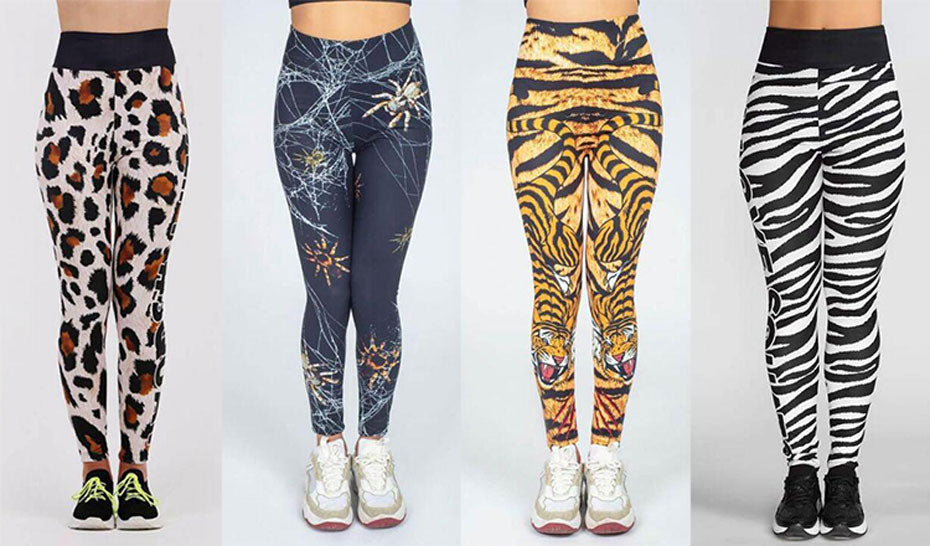 Cubidupi is a great place for Halloween related printed tights. Apart from the animal print series, their jungle leaves tights, and spider print tights are also statement makers that go well with rollerskates.
Play up with these costumes, add animal masks, horn hair bands, and body art to make a perfect danger persona.
2. Rollerskating carhop
A popular 50s car hop costume is a great way to make a statement this year. Especially when dine-ins are already restricted, this car hop girl or boy is a very relevant concept. You can make this look with some retro clothes or with some separates from your closet. Your options are;
Apron, soda jerk hat
Jeans, jacket and a plain tee.
Shirtdresses
Button-down shirt
Horn rim glasses
Cat-eye shades
2.1.  Roller Derby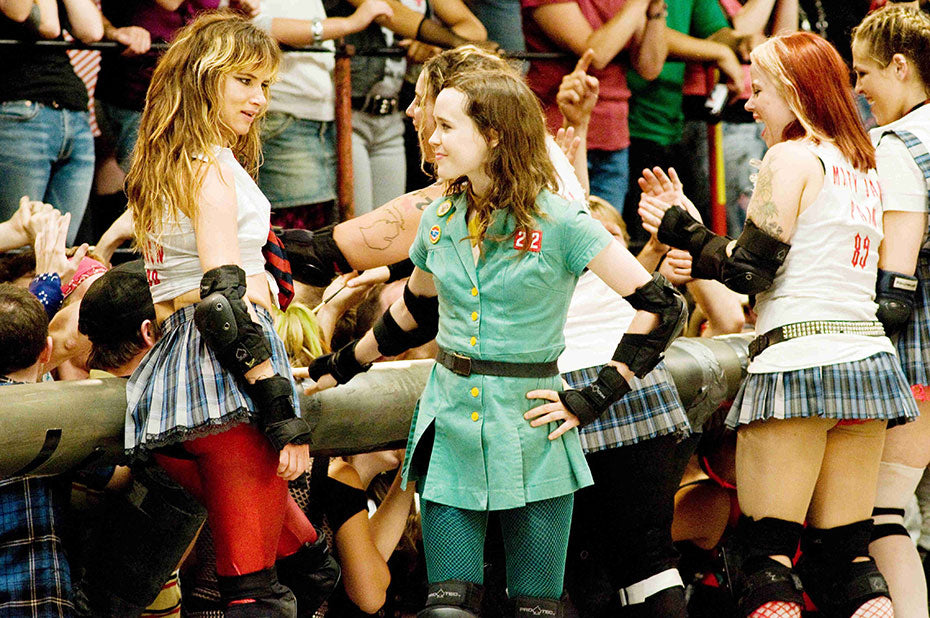 If Margot Robbie inspires you in the DCEU movie <Birds of Prey>, then the rad roller girl outfit is your thing. Your rollerblades safety kit's elbow and knee pad come in handy here. Add a fabric helmet with pigtails and your very own roller skates, and get ready to make a statement this year.
Embrace the motto of "be your own hero." You can easily gather your costume using armbands, tennis skirts, elbow and knee pads, helmet, and voila!! You are on a roll.
2.2. Glow in the Dark Skates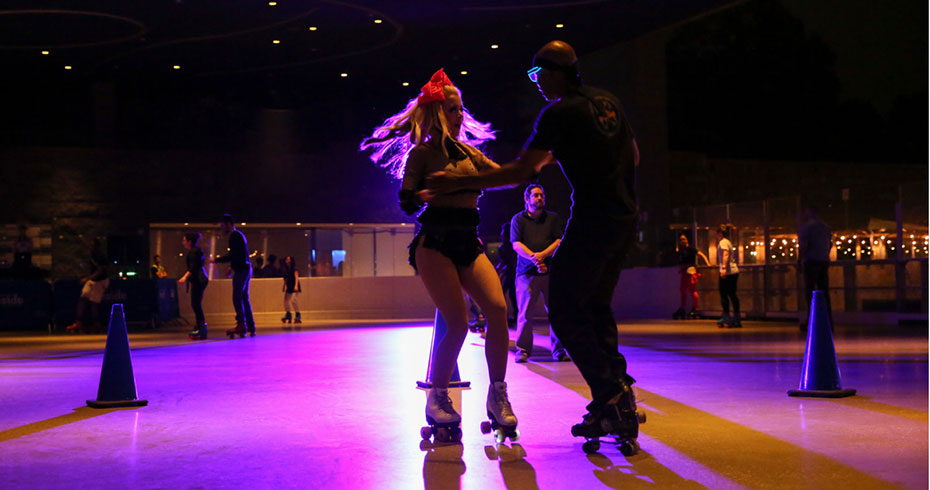 Halloween is all about mystery and tricks, and what can be more mysterious than a glow in the dark skating party. Your favorite Halloween jams playing in the background and skaters doing their trick jumps and spins in the dark, creating a mesmerizing atmosphere, wow! What a fun idea for Halloween.
3. Pun costumes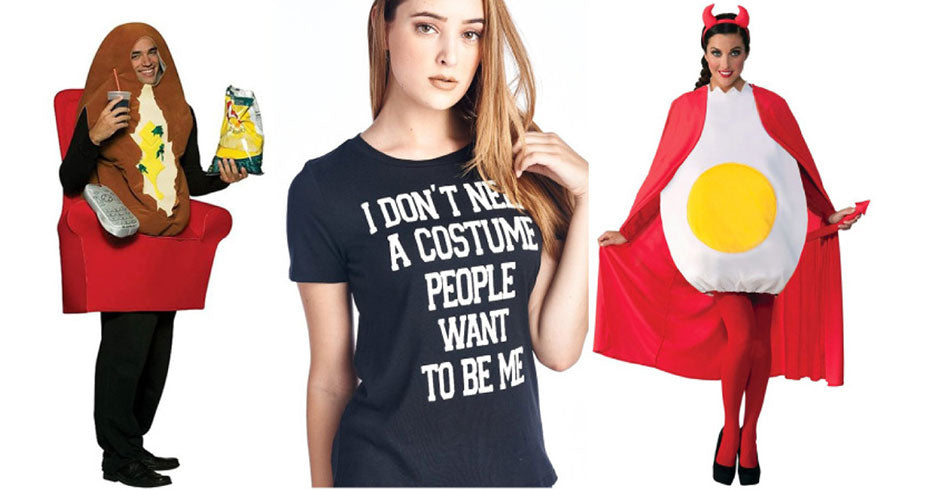 Pun costumes are about fun and expression. They are very easy to put together by yourself. Some pun ideas are;
The Iron Chef with an iron and a chef's hat.
A social butterfly with a social media icon in hand and butterfly wings on the back.
Hawaiian Punch with punching gloves in hands and a Hawaiian theme dress.
A ceiling fan with pom-poms and a shirt saying, "go ceiling."
A GingerBread man with red hair wig or dye and a loaf of bread.
4. Armour Suit
If you are reading this piece, it means you are already roller skating or are interested in it. In any case, roller skating safety gear is essential for you. You might own it already. Just wearing all your high-quality safety gear like Skating protective gear Stainless steel knee pads and elbow pads, Skating riding armor suit outdoor equipment protective gear motorcycle armor suit or Skating armor cycling gear fall armor sports protection gear protective armor gives you a hero like a persona. This is not only unique but very powerful depicting costume.
 4.1. Game Of Thrones
Game of Thrones offers a wealth of Halloween ideas. The variety and number of characters make it difficult to decide and remain stuck with one idea. Night king is probably the most popular choice followed by Daenerys and her dragons, Jon Snow, Sansa, and Arya Stark, Lord Varys, the Lannister siblings, Khal Drogo, and Melisandre. Replace your shoes with skates and you are good to go to any party to make a statement with a unique touch.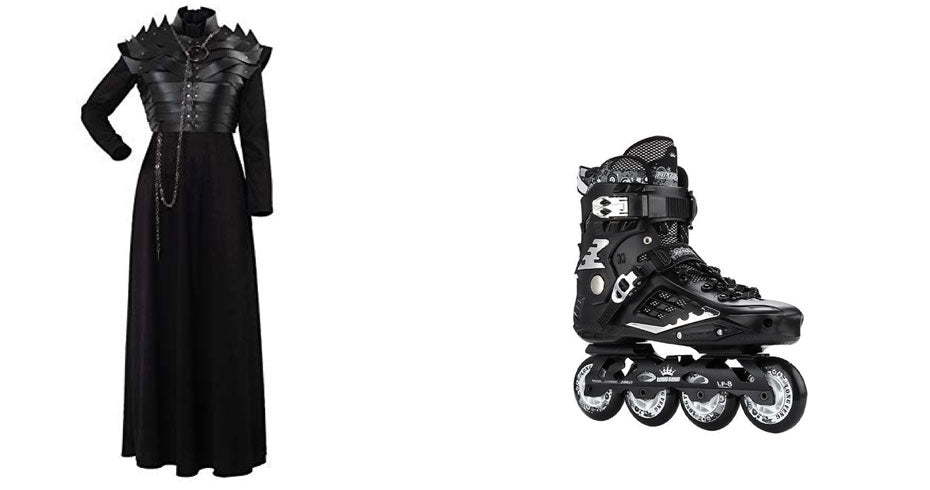 Robes and dresses are usually longer for the game of thrones costumes. Make sure you adjust the length to avoid them rolling into your rollerblades. Also, choose a lightweight sword or any other probe you are holding in your hand, is light enough for you to keep your balance on skates.
We would recommend these costumes only for the very expert rollerbladers who can balance the robes and dresses effectively on skates. If you are a beginner, the game of thrones is not a good idea for you.
5. 80's Glam on roller skates
Bring out your high-waisted pants, curly hair wigs, shiny fabrics, and large frame eyewear to gather up a 70s glam outfit. Play with glitter and shine for body art. Shiny, polyester fabrics with a lot of jewelry and wig, fishnet gloves, net tights, more are better when you think of disco roller skates as Halloween ideas. A perfect combination for fun-loving people out there.
6. Extreme 90s Roller Blader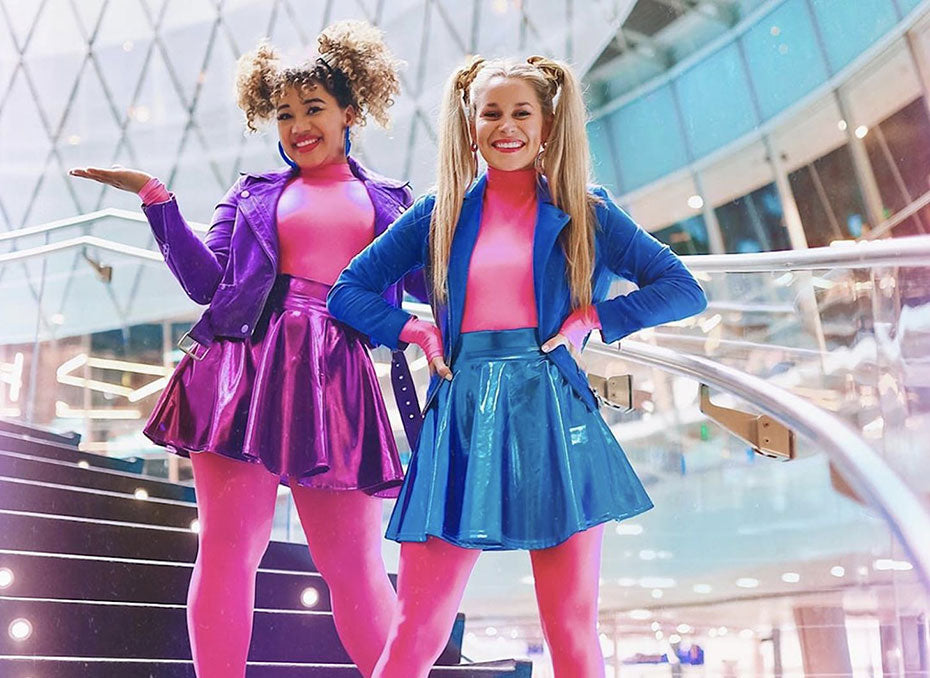 Perfect for the  "Elder Millenials" of this time, extreme 90s rollerblade glam never fades away.  You can go for a grunge-meets-X-games look, with a backward baseball hat, an oversized tee-shirt, and some jeans lying around in your closet. The 90s was an extreme sports era so rollerblades instead of quad rollers are your way to go. For girlies out there, what else but a baby doll tee, a tattoo, and that famous frosty lipstick, and you have got that 90s extreme look.
7. Kids style
Being a kid character is a classic Halloween idea. Especially for movies or cartoon themed Halloween parties, kids related to Halloween costumes are very popular. costumes of Buzz, Woody, and Bo Peep are easily available at the stores or you can do some DIY toy story costumes with stuff lying around at your place.
Maleficent from 'Sleeping Beauty' and 'Maleficent' and 'The Grinch' also make interesting Halloween costumes with most of the stuff that can be made easily at home. Your roller skates will only make you more loved and appreciated by the kids and your like-minded friends.
Kids style Halloween ideas are very popular with parents and family friends groups.
8. Group Costumes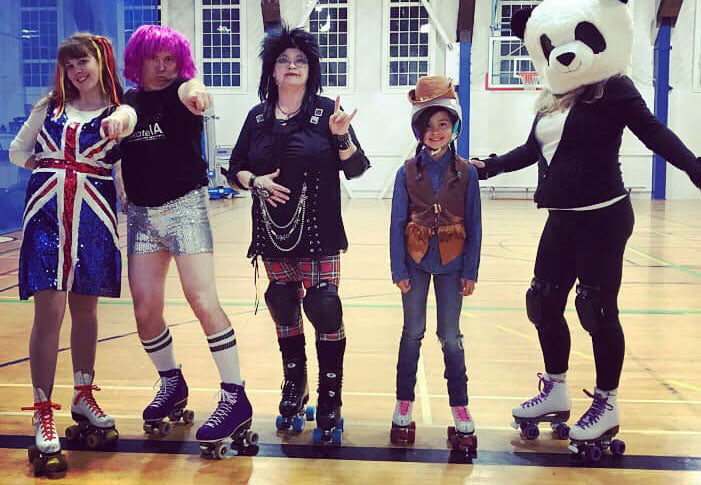 One person going zoom on the skates is a sight on Halloween but how about a group in scary costumes and zooming around on the street. I am sure this is a treat. You can plan up with your gang and play up on this Halloween with statement costumes and in your roller blades doing jumps, moves, and flips will make you the talk of the town for days to come.
Making a theme group or the same costume group both make a strong impression. For example, you can take 'toy story' as the theme and your group members are dressed as Gabby Gabby, Buzz Lightyear, Woody, Forky, etc. Similarly, you can take 80s disco as a theme and everyone takes out their shiny, shimmery glam clothes with high waisted pants or bell-bottom pants to live up an image of a roller-skating disco star.
9. Simply Skates
You can even make your roller skates the main attention grabber by choosing a daring pair and using it like a pro to make you Halloween worthy. Just add an interesting headgear like a curly hair wig or a reverse P-cap with an oversized shirt and cargo pants, you are ready to roll. You can even carry an old tape recorder on your shoulder to give it a hip hop look. But only if you are sure it is light enough or you are an expert rollerblader to use it.
What not to Wear with RollerSkates
Roller Skates make a great addition to any Halloween costume. However, it is always a good idea to pay attention to your safety first. If you are using roller skates this Halloween then try to avoid,
Long flowy costumes with too many items to handle.
Heavy headpieces.
Anything covering your eyes like hair or masks
Too heavy items in your hands to carry.
Halloween is the time of the year when you can experiment and can embrace your wild and naughty side. This is a time to celebrate your creativity without any fear and without falling into any dress code. You are free, so go ahead and have tons of fun.
---