How do I choose inline skates?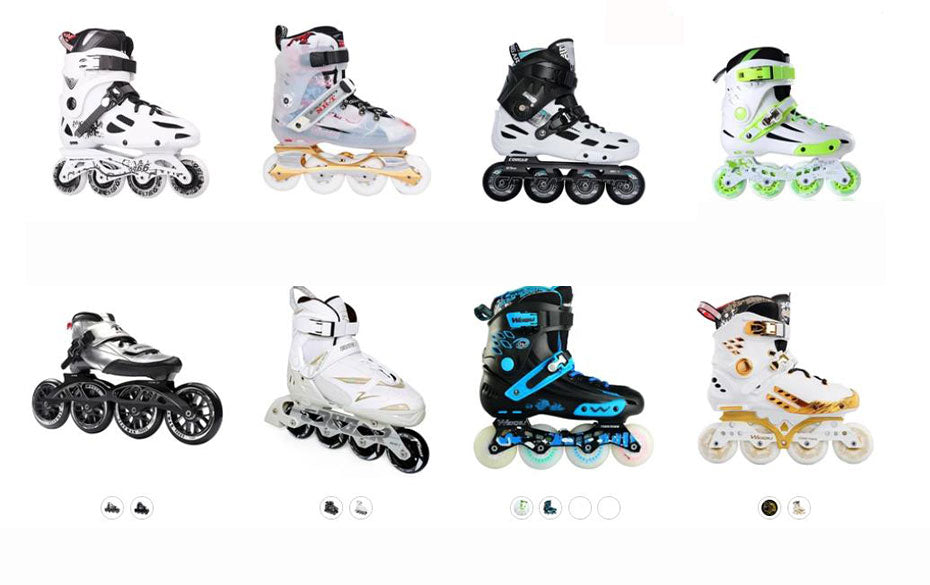 When choosing roller skates, you should consider:
1. What type of inline skates should you choose?
1.1. Fitness Inline Skates
1.2. Urban style inline skates
1.3. Recreation
1.4. Speed ​​(racing) inline skates
1.5. Slalom inline skates
2. Factors to consider while buying Inline skates
2.1. Wheel size and Hardness
2.2. Wheel Size and skating ability
2.3.  Number of wheels
2.4.  Choose right size
2.5. Frame length, bearings, material and other parameters
2.6. Brakes
2.7.  Ventilation of Boot
2.8. Lacing
Conclusion
If you want skating to bring your joy it is necessary to choose skates properly. It is not so easy, but neither is it science, however many customers make mistakes. Then how to choose skates?
Inline skating has become a real hit over the past couple of years. However, before you buy new inline skates, you need to think about how you are going to use them. Due to the wide range of inline skates designed for different skating types, it can be challenging to find the skates that work best for you. Inline skating is the perfect way to relax while exercising, whether it's recreational or professional. Inclined skates are suitable for many activities, and only you can choose one.
When choosing roller skates, you should consider:
Type of inline skates (roller, fitness, aggressive, ...)
Wheel size and rigidity (78 mm, 82A, ...)
Shoe size (40, 41, 42, ...)
Overall value for money
Frame length, material and other parameters
1. What type of inline skates should you choose?
It all depends on whether you are an experienced skater and know which type of skate you like best, or if you are a beginner who does not have a specific style yet. It is also important to consider the surface on which you will ride most often. Based on these requirements, you can choose the type of your new skates.
1.1 . Fitness Inline Skates
These skates are the most widely used. Fitness inline skates are made for fitness and recreational skating. They are easy to operate, comfortable and well ventilated. Great for more experienced skaters and those looking for more out of their skates. There are many variations in this style of skateboarding, and you will find skates with functions for skating a little faster and for longer distances than walking skates. 
1.2.Urban style inline skates
Urban-style inline skates are relatively new and offer boot designs reminiscent of aggressive skates. With a graceful short frame design built for city streets, the city skates are great for getting around crowded sidewalks.
1.3. Recreation
Recreational inline skates are suitable for inspiring skaters. Built with comfort and performance in mind, skates in the Leisure category will provide excellent fit and comfort for aspiring skaters and are the starting point for fitness.
1.4. Speed ​​(racing) inline skates
Performance-oriented inline skates are suitable for racing and intense training. They are designed for frequent use and increased stress. Speed ​inline skates often have a long frame that attaches to the ankle and can hold up to 5 wheels. They are suitable mainly for experienced skaters and professionals. Some inline skates are gender-specific such as women inline skates and men inline skates.
1.5. Slalom inline skates
These skates usually have smaller wheels that are close together. They are ideal for slalom skating. Slalom inline skates are suitable for intermediate to advanced skaters who plan to skate on quality surfaces.
2.
Factors to consider while buying Inline skates
2.1. Wheel size and Hardness
Wheels are one of the most important factors affecting skate performance. The wheel size is indicated on the side of the wheel in mm, i.e., 80/20, where the first number is the diameter and the second is the hardness. Larger wheels are faster and suitable for uneven surfaces. On the other hand, smaller wheels are slower and are suitable for higher quality surfaces. They are also easier to control.
Like other elements of inline skating, wheels have seen their fair share of advancements over the years. Wheels that you find on modern inline skates are manufactured from polyurethane. Inline skates of children are usually 3 wheels and called inline skates 3 wheels. Seldom will you find wheels made of any other material, unlike decades ago when inline skating began its emergence. Many skates manufactured in the 1980s and 1990s had plastic wheels, which were ineffective and cracked easily.
2.2. Wheel Size and skating ability
76 - 80 mm: Slower wheels are more suitable for beginners who are learning to balance and do not need to move quickly.
81 - 84 mm: Medium-speed wheels are suitable for almost all users with different experiences.
85mm: Wheels over 90mm are very fast and suitable for experienced skaters (speed roller skates).
60 - 70 mm: For more excellent safety, smaller wheels are used in children's skates. They are not very fast and will help your child learn basic ice skating techniques and learn how to balance.
A durometer is a relative hardness measuring device often tested with plastic and rubber products. There are several hardness scales - the "A" scale is used for wheels (i.e., Wheels marked 78A). The number before the letter "A" is always in the range from 0 to 100, where 0 is the minimum hardness and 100 is a very hard material. Choosing the right stiffness is not as easy as it might seem.
Under 80A: Soft wheels are suitable for riding on rough terrain, they absorb shock better.
Medium hardness 80A-90A: Optimal hardness for skating on normal surfaces such as roads or inline skating tracks (fitness roller skates).
Hardover 90A: Hard wheels are suitable for faster riding (speed, racing).
2.3 Number of wheels
2 wheels - used with special models such as skateboards (inflatable wheels), skate skis or aggressive skates.
3 wheels are very popular lately. Good balance of speed and maneuverability. This allows larger wheels to be used while maintaining a short and maneuverable frame. At the same time, this allowed an increase in the size of the skates by 125 mm (4 x 125 mm would mean too long a frame). 3 wheels are also used with children's skates to reduce weight and shorten the frame.
4 wheels are the most common number of wheels. Provides a good balance of speed, grip, agility. Used with all types of inline skates. The maximum size is currently 4 x 110 mm.
5 Wheels - 5 Wheels are used with older types of skates, downhill and alpine slalom skates.
More information about Inline skate
2.4. Choosing the right size
It is very important to choose the right size for your skates. A shoe that is too small can cause ulcers, blisters, pain in the arches of the foot, foot, etc. In this shoe, you will not enjoy skating very much and you are looking forward to taking them off. In contrast, the larger boot does not provide the necessary support, especially at the sides and during energy transfer. Skaters have no support and will be "pigeon foot" in such skates. It is also unrealistic to do the correct bounce and glide in oversized skates.
2.5. Frame length, bearings, material and other parameters
The frame is another attribute that influences your riding style. The longer frame is suitable for endurance riding, the shorter frame allows for better skate control. The quality of the frame depends on whether it is made of aluminum or plastic. Aluminum frames are more durable than plastic ones and can withstand more impacts.
Bearings affect both the speed and the quality of your ride. Most bearings on the market have an odd number on the ABEC scale (ABEC-1, ABEC-3, ABEC-5, ABEC-7, ABEC-9). This means precision bearing manufacturing. The higher the number, the more accurate the bearings are made (small dimensional tolerances).
Another thing to keep in mind is how the frame is attached to the shoe. More expensive models are self-tapping for more natural cleaning. The cheaper skates have a riveted frame, while the cheapest skates are glued or straight as part of the skate.
 2.6. Brakes
The brake can be a very, very important part of inline skating, especially for beginner skaters. Almost all inline skates come with a brake, although some skate models do not have brakes.
Skates with brakes: Brakes can be found in almost every leisure and fitness skate. Usually, the brake is attached to the correct skate, but often it can be replaced on skates. This is so skaters with a dominant left foot can apply the brake to their left skate.
No brake: While this may seem like a bad idea for beginners and beginner skaters, some skates do not have a brake system. Aggressive skates, roller hockey skates and racing skates are just a few of the skating styles that lack a braking system. The reason for this is that the braking systems on these types of skates tend to interfere with performance, and skaters in these disciplines tend to be more confident in their skating.
These factors should be considered for buying the inline skates. Either you are professional or a beginner, you have to get inline skates with great care.
2.7. Ventilation of Boot
This usually depends on the textiles material used, or sometimes there are special holes for good air circulation. Ventilation is more important when it comes to fitness inline skates than sports inline skates. Direct vents are usually found in the tip or bottom of the boot. These are also a matter of comfort, but always remember that your feet sweat in skates - some have more, others less. If you are concerned about sweating, you can consider the vents. But most skaters are interested in the shape and quality of their skates, ventilation is usually just a nice bonus.
 2.8. Lacing system
Traditional laces are the most common method of lacing. The advantage is the ability to precisely tighten in a specific place according to the shape of the foot (a tighter tip). Speed ​​skates and racing skates usually have lacing for a better fit because they don't wobble.
Speed ​​laces are a lace that goes through the zipper, and the ends join together above the zipper for a simple snap. The advantage is faster lacing. You simply pull on the connected ends of the laces, slide the zipper down and the skate tightens. From personal experience, for a better fit, it is good to first tighten the lace at the end and then use a zipper. The release is carried out by a built-in fuse.
Quick lacing systems: Lacing is done with a quick system with steel or nylon thread. When the wheel rotates, the string is stretched, which provides an even and reliable fastening and good fixation of the leg in the skate. The release is done by pulling the wheel forward or rotating in the opposite direction. The advantage is fast, easy and even tightening, which does not require much force, rather easy tightening ability while driving and a quick release method. The disadvantages are the higher cost, the higher risk of damage, and the possibility of delaying, which someone may find unsuitable. There are other quick lacing systems, such as Rollerblade (older types), which used a pulley for lacing, but this system is no longer used today.
Conclusion
Inline skating is a perfect way to release anxiety while exercising,  all you need a suitable inline skates that help you to perform your activity well. Choosing your inline skates carefully, you should consider each factor which affects your skating. Either you are buying skates for adults or children if you have information about each factor you can get the right one. We do recommend exploring our size guide prior to purchasing skates.
Learn more Inline skates
0 comments