Different types of Quad Skates: Artistic skates, Jam skates, Quad Speed Skates, Derby Skates, Rhythm Skates
Are you thinking of buying new  quad roller skates but don't know which one will work the best? No need to worry because here you will find a perfect guide for different types of quad skates. Either you want to buy indoor quad skates or outdoor quad skates, this article will answer your questions. It gives a detailed overview of artistic, jam, speed, derby, and rhythm four wheel roller skates. All information about adjustable quad skates is based on extensive research and benefits analysis. Read the article thoroughly and then select the best outdoor adult quad skates for you.
1. Quad Speed Skates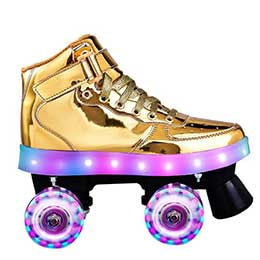 It is all about how much speed do you need with your quad roller skates? If you are searching for something which can help you move like the wind, try quad speed skates. These skates are perfect and quite popular because of their speed. It works like a running shoe, with which you can enjoy moving from one place to another quickly. The design of these fantastic skates makes them ideal for the fastest move. The sole of these four-wheel roller skates is very close to the foot and fit perfectly and comfortably as a shoe. Because of its comfort, these adult quad skates are popular as comfy skate boots. These quad kick roller skates consist of a low-cut under the ankle bone, enabling the rider to move comfortably. The high flexibility, agility, and incredible speed are notable features of these skates. Thus, I will recommend you to buy a pair to enjoy maneuvering at top speed.
The best thing about the adult quad skates is that these are like comfortable shoes. You can wear these quad kick roller skates as a boot and enjoy a complete grip over the wheels. These four-wheel roller skates are also lighter in weight, and that is why you get a faster move with great ease. These skates' main goal is to help you gain speed with a little thrust, which is why it has less padding and lighter plates with the sole. Especially if you like to have a skate-ride with your friends for a long distance, then try these fantastic speed wheel boots. These quad roller skates are the perfect choice for long distances. The speed and comfort make it highly suitable for skating competition too. However, always remember to use these skates after proper training. Otherwise, you may get hurt.
2. Jam Skates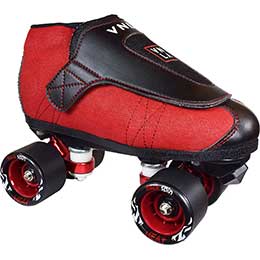 Do you want to be speedy but with fancy footwork? We recommend you to buy a perfect pair of jam quad skates. These adult quad skates are speedy but with excellent fancy footwork. The best thing about these four-wheel roller skates is their design and weight. These quad kick roller skates are very comfortable to wear because of its lightweight design and low-cut around the ankle. Its design provides extreme comfort to the foot ankle and supports the maximum range of movement with great ease. This allows the skater to perform in the fancy footwork and move with high speed from one place to another.
The best thing about these adult quad skates is its toe design. The jam skates have a toe plug, which gives it a fancy look, and you can replace it with different colors. This toe design not only makes it unique but also different from the speed quad roller skates. It is highly suitable if you plan for an event, such as a school competition or a Halloween party. The fancy look of these four-wheel roller skates makes it an incredibly unique, stylish, and comfortable choice for the buyers.
3. Roller Derby Skates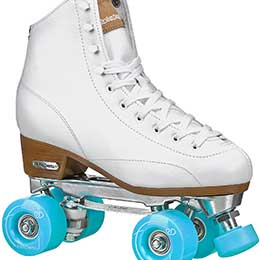 It is all up to your comfort zone. If you are searching for more padded ones, then we will recommend you the Derby Skates. Though it seems more like the speed quad roller skates or jam quad skates they are more thrilling. If you like to be hard on your feet, you will probably like it. These Roller Derby skates are a pretty intense contact sport, and you will require more power to ride it. These four-wheel roller skates are very comfortable to handle. It is always enjoyable to see someone skating with Derby roller skates.
 The best thing about these skates is their combination of comfort with speed and style. If you like to be a stylish rider with thrilling sports fun, this will be the best choice. Some of the derby skates have a Velcro strap in addition, but that is not necessarily part of it. Some of the derby men's quad skates have traditional laces to give your feet a perfect grip. Always get excellent training before you roll over your derby skates. Have a safe and fit ride.
4. Artistic Skates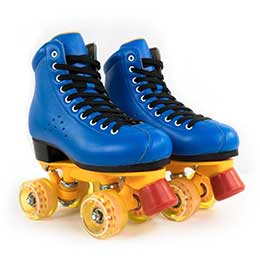 Many people do not know about the different kinds of four-wheel roller skates. They think that the boots with wheels are quad roller skates. However, unique types differ based on their comfort level, speed, style, and look. Thus, if you have probably seen any adult quad skates just like ice skating boots, then it was artistic skates. These roller skates are a bit artistic in style, and therefore seem older fashioned. So, if you like classic things and have a little decent choice, then these roller stakes will work correctly for you. These quad kick roller skates include a higher cut near the foot ankle, which provides excellent support to your legs for easy movements. It is no doubt that skating is fun, and therefore security must always be the priority.
The best thing about these skates is that the higher cut style gives extra support to your heels. So, if you want to spin and jump with your four-wheel roller skates, then artistic adult quad skates are the most comfortable choice. It supports your foot movement with its higher heel and let you maintain your balance quickly. The attractive heels of these quad roller skates also make it extremely attractive and unique from others. Though these stakes a bit heavier, but it is to increase both agility and control.
5. Rhythm Skates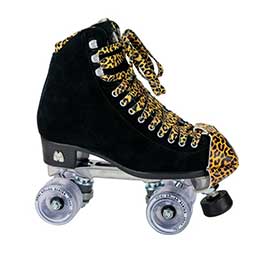 Are you searching for skates for your dancing competition or participation? It would help if you tried Rhythm skates, which are perfect indoor quad skates and ideas for dancing. At first glance, you will think these four-wheel roller skates are similar to the jam or artistic adult quad skates. However, when you wear and use them, the difference will be prominent. Unlike jam skating, these rhythm skates are ideal for the traditional skating dance. However, if you are participating in break-dancing, then I will recommend the jam quad roller skates. Otherwise, for the old school style dancing, rhythm skating is perfect.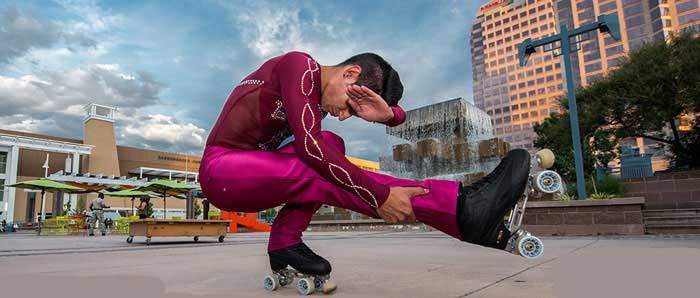 These rhythm skates are also famous as the shuffle four-wheel roller skates. It usually consists of eight wheels, but some of them also available with four wheels. The purpose of these adult quad skates is to provide comfort to the skaters when bouncing and dancing with the music. It supports the feet and legs with its padded base and long ankle neck. If you are a beginner as a skate dancer, try to have complete command over the rhythm skates first. It is less speedy but comfortable bouncing and dancing.
6. outdoor and an indoor quad skates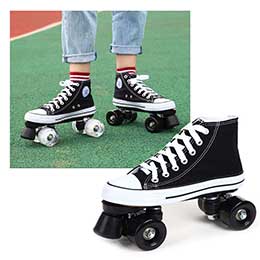 Many people don't know the difference between outdoor quad skates and an indoor one. However, if you are also not aware of these quads kick roller skates, focus on the wheel arrangement. It is the only difference between both. Indoor skates require hard wheels to keep the move flexible and comfortable. On the other hand, the outdoor adult quad roller skates consist of smooth and same wheels. The reason behind this difference in wheels arrangement is due to their type of job. Indoor skates are designed for smooth surfaces but dancing, jumping, and bouncing. On the other hand, the outdoor quad skates travel over the rough and tough surface, unpredictable. Thus, the smooth and sharp four-wheel roller skates quickly move over the body and help you skate comfortably.
---